Blue, Twinbrook
I woke up the next day feeling refreshed and excited. I dressed myself in one of Goodwin's mother's old outfits, and I was too happy to even mind how tight the suit was (and, I suspected, how out of fashion I looked). Yes, I was still homeless, and I didn't think Justin was coming back anytime soon to apologize, but something had changed. All the obstacles standing between me and the future I wanted suddenly seemed much less daunting.
I had made a new life for myself once, and I knew that I could do it again.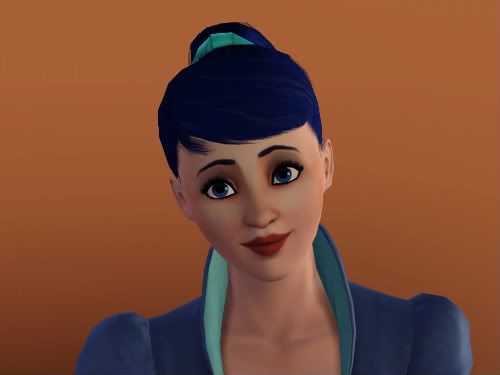 You're not alone
, my Guardian whispered in my head.
Goodwin will help you put your life together.
"And you?" I asked jokingly, trying to mask my actual concern. As if I could! The Guardian knew everything I felt as clearly as if it was written in the air. "Will you be here to help me?"
I will be here for as long as you need me
, the voice replied,
but someday I will be needed by another. By your heir.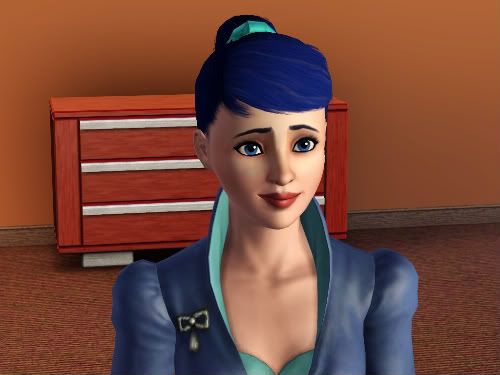 "My heir..." I couldn't finish the thought. It was too strange. I was suddenly anxious and scared. I wasn't ready for children, not when I wasn't even able to take care of myself. What kind of mother would I be for a child of mine?
You will not always feel this way,
the Guardian said.
And the time when we must part is far away. Now, you must focus on repairing your life.
The Guardian was right, of course. So I devoted my day to fixing all of the problems I'd created for myself.
First, I went into work and apologized for my lousy behavior over the past few weeks. To my absolute shock, my boss accepted the apology easily and gave me a promotion! "We've been waiting for you to get through whatever problem you were having," she said as we left the work building at the end of the day. "And I'm so glad to hear that your heart is back with us again. You'll find it's easiest to forget a bad time, or a bad person, by focusing on helping others. And if you need anything at all in the meantime, please let me know."
She gave me a knowing look, and I suddenly understood that she thought Justin had been a cruel boyfriend, maybe even an abusive one. Well, her belief wasn't so far from the truth. And what else could I say? That he had tricked me, tried to kill me? I didn't even know the full story of what had happened, except that my magic could have killed me and that Justin knew it even as he urged me to use it.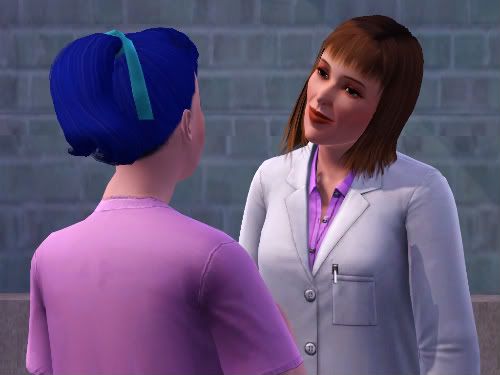 That night, I went home and sat for a long time with Goodwin, talking about anything and everything. I learned about the changes in his life, we joked a lot, and slowly I began to feel as though our friendship had never taken a break at all.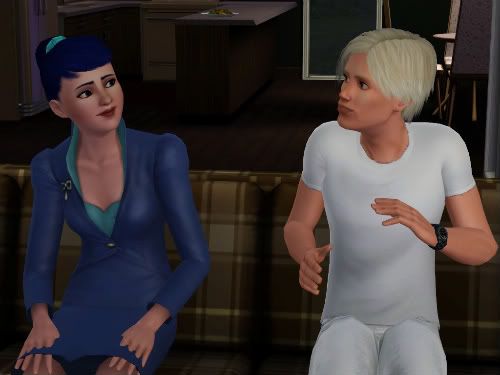 Suddenly, I pictured what it would be like to kiss him, right then and there. I willed the image to leave my mind, but the harder I tried the more intense the vision became.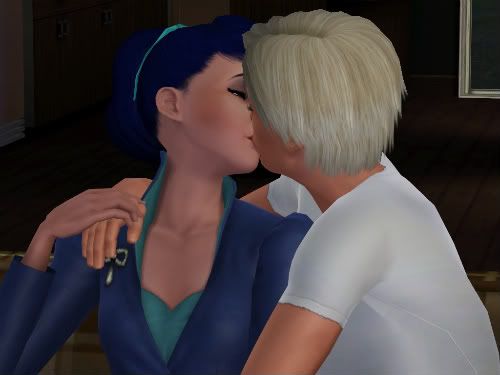 The Guardian's snickering drove the image away. Goodwin, who had finally noticed that I wasn't contributing to the conversation at all, asked if I was okay. I shrugged my shoulders, sure that I was completely red, and muttered nonsense under my breath till Goodwin decided to leave it alone.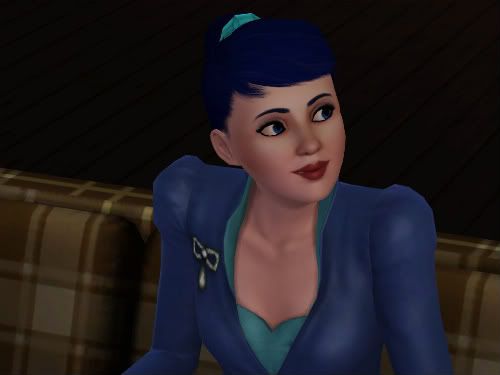 'He's not for you,' I told myself sternly. 'He has a girlfriend, remember? Are you even over Justin yet, to be thinking of someone else this way?'
But as soon as I asked myself that question I knew the answer. I was completely and utterly over a man who would use me so despicably. A small part of me still missed him, but I knew that it was not actually
him
I missed. It was my fantasy of him, the idea of a noble man trying to save his friend from illness. My fantasy of a man who had loved me more than anything else. Justin was not that man, and I deserved someone more substantial than a fantasy.
But not Goodwin. He deserved to be happy with someone else, if that was what he wanted. He deserved a beautiful, kind woman like Jenni Jones-Brown, who did not trail magic and chaos wherever she went. I shifted myself away from him on the couch and tried to coach my face back into a smile.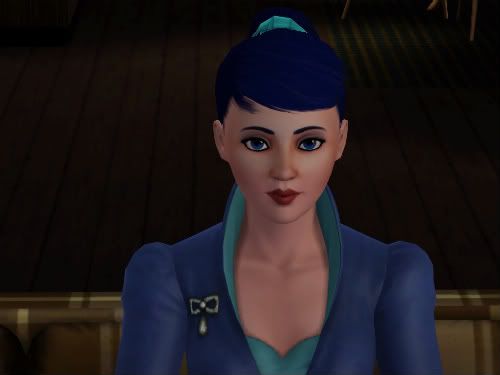 I went shopping the next day, and was overjoyed when I found a dress just like the one I always used to wear. I had been sure I'd never find one like it again, and it was one of the possessions I had mourned the most after the loss of my house. But there it was, right on the rack. When I was wearing the dress again, I felt complete. It was yet another sign that I was ready to start fresh.
My days quickly fell into a routine: wake up, eat breakfast with Goodwin, work, dinner with Goodwin, chess practice or watching TV with Goodwin, bedtime.
I especially loved dinnertime because it gave us a chance to catch up on everything that happened during the day. Goodwin didn't miss dinner even once, not even the day when he came down with the flu badly and could barely get out of bed. It was the time together that we could always count on.
After I'd been at Goodwin's house for a little over a month, I started to notice myself feeling sick sometimes. I would rush to the nearest toilet to vomit, and then the nausea would pass. Goodwin worried about me, but I was sure I had just caught something from one of my patients.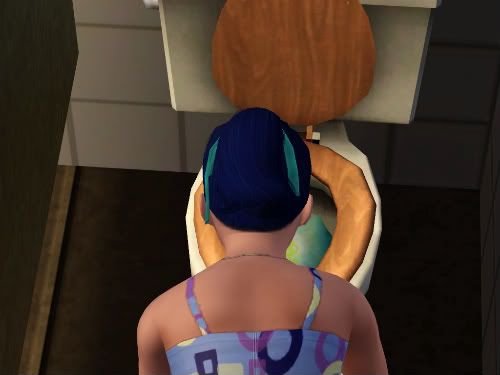 Work dominated my life in the best possible way. I loved the sensation of helping, knowing that in a small way I had contributed to saving a life. At first I was reluctant to use my powers, but I soon realized that I could use small amounts without any danger to myself or others. Even my presence seemed to have a positive effect on patients, as if power oozed out of me unconsciously.
So I acted subtly. I pushed a little power into the most despondent patients, hoping to give them just a bit of hope. I found that using my magic to motivate patients to strive for health was the best way to alleviate pain and help them heal.
Sometimes I had to let my patients go. I cried for a whole day after one woman I had been caring for passed away at the hospital. Goodwin came with me to the graveyard to mourn for her after the official funeral had ended. He stood there silently, supporting me as I cried.
"You brought comfort to her final moments," Goodwin said suddenly. "You couldn't have done anything else for her."
"How do you know?" I asked.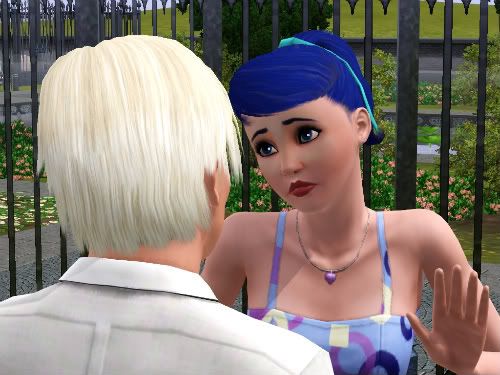 I remembered vividly my last moments with her. I had contemplated expending more magic than usual to directly attack the cancer that was ravaging her body, even if I had to put myself at risk. But then she had stared directly into my eyes and said, "I think my time here is ending. Please, whenever you touch me I feel well again. Hold my hand and give me the courage to face what must come next."
So I held her hand until it went limp. Then I received permission to leave work early, drove home, and sobbed my eyes out.
"I know you, Blue," Goodwin said. "I know that you would have stayed by her side for as long as you could, bringing her peace."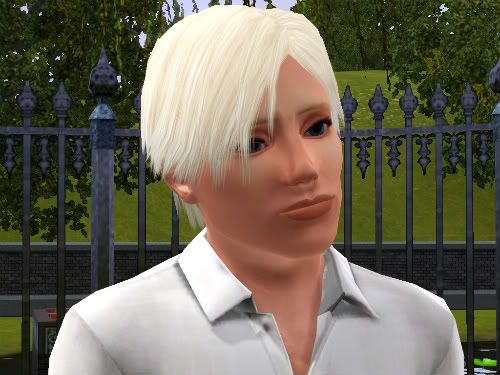 "But I don't bring peace," I whispered. "I create problems for everyone around me. Your life would be so much simpler if I left right now!"
I motioned with my arms, showing how I could easily walk away. Except it wouldn't be easy. I didn't know what life would be like without Goodwin.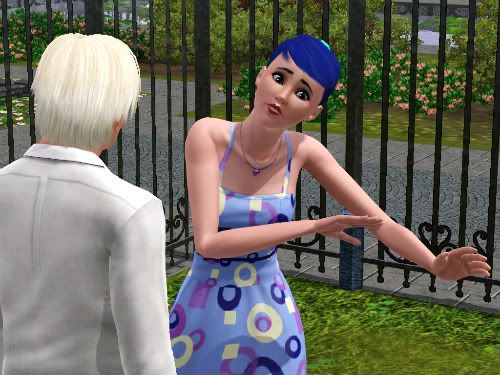 Goodwin gazed at me with an unreadable expression on his face. I wanted more than anything to know what he was thinking. "Maybe my life would be simpler without you," he finally said, and I wanted to cry. "But not for the reasons you think. If you left you'd find me much more sad than relieved."
"Why?" I said, hope returning as I spoke. "What have I done except made your life miserable? I abandoned you, then I suddenly came back to impose on your generosity for who knows how long! I even dragged you to this graveyard to make me feel better! When have I ever helped you, the way you've helped me?"
"Blue," Goodwin said softly, pulling me into his arms. "You're the one who's been through a hard time. You're the one who needs a friend right now. I know that when I'm experiencing a hard time, you'll be there for me, but now it's my turn to be there for you."
I was trying not to show how happy I was to be close to him, but I knew it was written all over my face. His kindness only made him more attractive.
He looked at me, a serious expression on his face. "You asked me why I bother. That's an easy enough question to answer."
He pulled me even closer, wrapping his hands around my face, then he whispered, "I love you. I've loved you practically since I met you. I love how brave you are, how smart you are, how much you want to help others. I love that you are strong enough to fight against your mother even when it would be easier to give in. I love that you care enough about a person you barely knew to come to her grave and cry for her."
I broke away from Goodwin, completely in shock. "How can you say that," I began, even as my spirits soared. "You don't know-"
And then his mouth covered mine, and I forget what I was going to say. I forgot everything except for him, and how his lips felt, and the warmth of his hand on my back.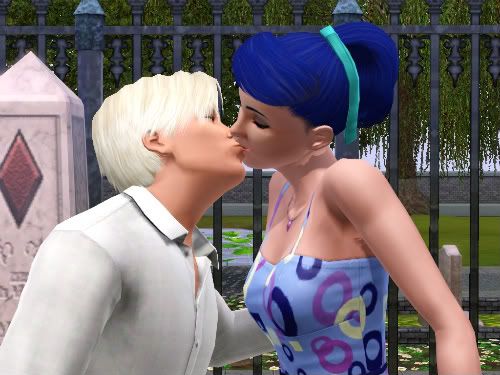 "What about Jenni!" I cried when we broke apart. I was dazed by Goodwin's kiss, but not enough to forget about his girlfriend. "I don't want you to break up with her on my account, if you're happy together."
Goodwin shocked me by laughing. "I broke up with Jenni the day after you came to my house!" he said, as if I should have known. "I couldn't stay with her when I knew I had a chance to be with you again. I'm surprised you even knew about her, I certainly never told you I had a girlfriend."
"I saw you kissing her," I said, looking down. "One night on the street." The image was still imprinted in my mind.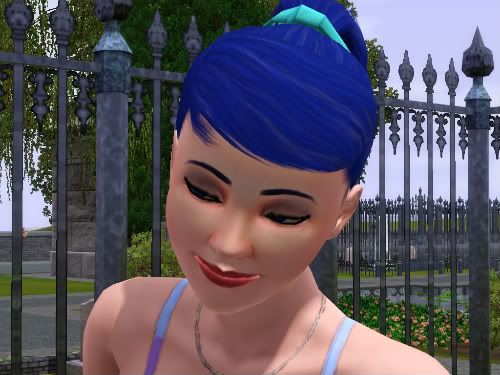 Goodwin must have sensed my sadness because he said softly, "I dated her because we were both lonely. I missed you so badly it hurt. Her high school boyfriend had just broken up with her. She asked if I wanted to give dating a try, and I agreed. But I think she knew it wouldn't last. She wasn't surprised when I broke up with her. In fact, I believe she recently got a job in Barnacle Bay, and last I talked to her she was happy to be starting somewhere fresh."
A strange lightness filled my mind. Relief mixed with happiness that there was nothing standing between me and Goodwin. Then, without thinking, I asked, "Did you two ever-?" I couldn't complete the thought, I was too embarrassed.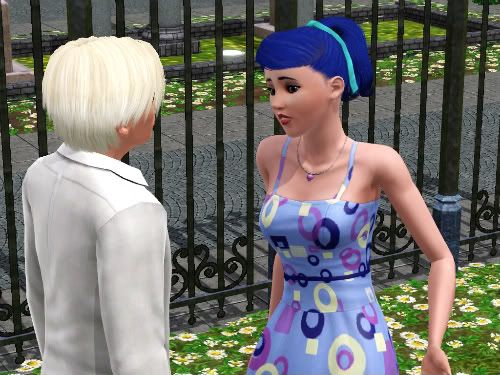 "A few times," he said softly, looking down as though ashamed. I was amazed that he knew what I was going to ask. "I don't cherish the memories though, and it was unfair to her, when I only wanted you. Jenni could sense I wasn't into it, so we stopped."
We stood there for a minute, silent. I didn't know what to do or say, and I had no clue what would happen next.
Speak the truth
, the Guardian said.
Tell him what is in your heart.
"I understand," I said cautiously. "It was my fault for abandoning you so viciously, with no explanation."
I stepped closer, grabbing his hand. Taking strength from him so that I could find the courage to say what I had to.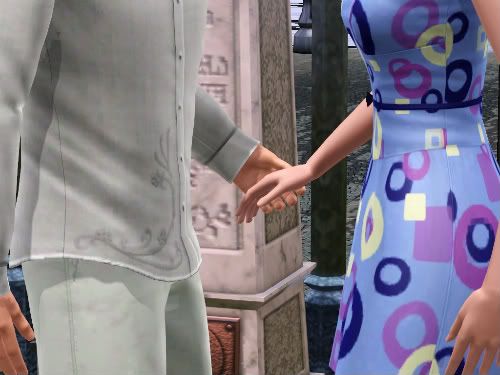 "You told me something earlier," I began. "And I didn't know what to say back. I'm not always amazing with words. I said this once to someone else, but I realize now that what I felt for him pales in comparison to what I feel right now. I love you, Goodwin."
Goodwin smiled, and opened his mouth, no doubt to say something much more eloquent than my little speech had been. But I'd had enough of words for today. I covered his lips with mine, sure that I would never be this happy again.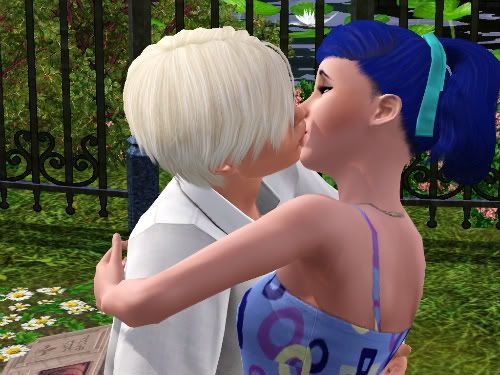 After that night, life was infinitely more happy for both me and Goodwin. We went on dates together all over Twinbrook, and soon it was common knowledge that we were dating.
People I didn't know came up on the street to congratulate us, couples introduced themselves and invited us to parties. For the first time I felt like part of the community. I enjoyed getting to know new people. I even began to feel like I had made some other friends. It was a shock to realize that people besides Goodwin might actually want to spend time with me.
Some of my new acquaintances and friends dressed a little... strangely. Who was I to judge though? Maybe it was high fashion to wear masks and black and white stripes.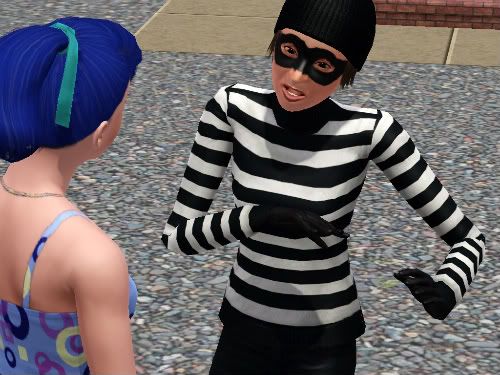 Goodwin and I spent plenty of time together though. We each took turns picking locations for dates, leaving it as a surprise until the very last moment. Whether we went to see a movie, or danced the night away at a bar, or simply sat on a bench at the park, we always had a good time. My feelings for him grew each day until I was sure that I could be with him forever and never feel differently.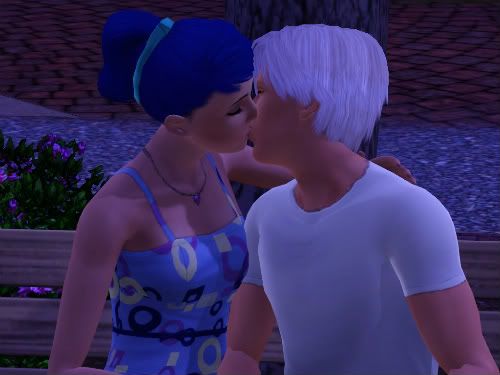 Sometimes our dates were interrupted when I had to deal with a medical emergency. I had grown quite adept at diagnosing an illness, and always went around prepared with certain pills.
Goodwin understand and even praised me, saying that he loved my single-minded desire to help others. He never complained when we missed a movie or lost a dinner reservation because I had to help someone.
We also started to look for a new house. Goodwin's was nice, but I wanted to live somewhere fresh. Though we never said it out loud, it was understood that Goodwin would move in with me when we found the right home.
One Saturday afternoon, I decided to go pick some fresh vegetables at the community garden. I had woken up feeling a little strange and decided that I probably just needed to get out of the house.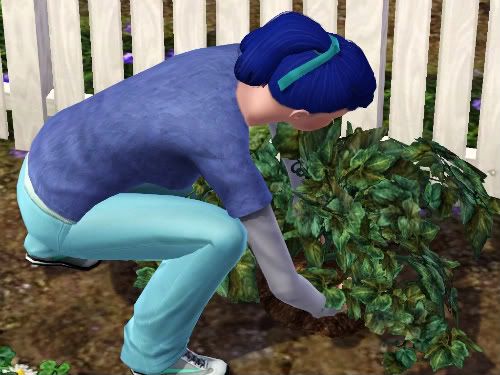 But as soon as I bent down, I felt my stomach against my legs. A stomach that was larger than usual and incredibly swollen. I stood up abruptly, looking down and gasping. When had I gained all of this weight? I'd been noticing that my clothes seemed tighter than usual in the stomach, but I'd written it off. Now I was scared.
I rushed to the hospital and begged my boss to check me out, even though I was off of work that day. "What's wrong?" I asked her, gasping with fear. Because I thought I knew what it was, of course, I just wanted to hear her say something different.
"Nothing is wrong," she said, her voice filled with joy. "You're pregnant, Blue! Oh, you and Goodwin will be so happy! But don't worry," she continued, misinterpreting the devastated look on my face, "I'll give you plenty of maternity leave!" She winked and I pretended to be grateful.
After I left, I stared at the hospital building for a little while. It had always been one of my favorite places in Twinbrook, the place where all were helped, regardless of social standing or economic means. It wouldn't be long, I realized, before I was back there to give birth.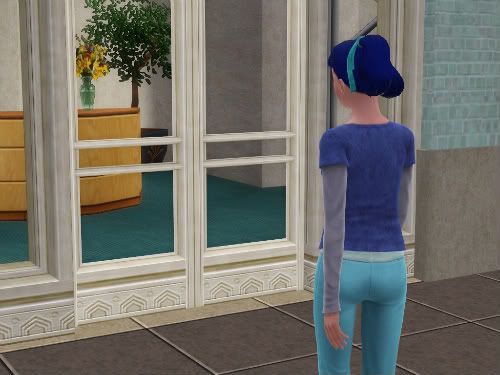 I couldn't go home after hearing that. I was afraid to even see Goodwin. I knew I couldn't tell him. My boss had assumed Goodwin was the father, as would nearly everyone else, but I knew the truth. I had never slept with Goodwin.
I decided to go to the park and practice chess. In fact, that's what I did every day for the rest of the week. I knew that if I spent an extended period of time with Goodwin then I'd have to say something to him. It was dumb, I know, but I couldn't say it. I was too afraid that everything would change. Would Goodwin want to be part of Justin's child's life?
I found a miraculous pink dress that seemed to eliminate all signs of my pregnancy. I wore that each day, but even then people at the park congratulated me. My boss had told a few people, and in Twinbrook gossip spread lightning quick. I hoped no one told Goodwin before I did.
As I practiced chess, I worried. I wasn't ready to raise a child. If Goodwin abandoned me, how would I take care of a baby by myself? Each day I went back to Goodwin's house more and more nervous.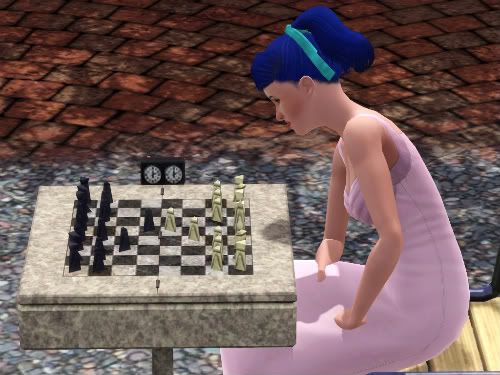 Soon, I knew that it would be abundantly obvious, mostly due to my evasive behavior. Surely Goodwin had noticed?
So I told him that night. We were at the bistro. I had purposely chosen a public location because I knew that even if he was angry he wouldn't want to make a scene. I couldn't stand a loud rejection again, not like Justin's. Goodwin had decided on a fancy lobster dish, but all I had been craving was a hot dog. I stuffed the food in my mouth, trying to act nonchalant, though Goodwin no doubt saw right through my act.
"Goodwin," I said quietly over dinner. "I have something to tell you."
"I know," he said.
"You do?" I asked incredulously, choking on my food. "You know that I'm, I'm, you know."
I stumbled, still not wanting to say it out loud.
"You're pregnant," he said, looking...happy? But that made no sense! "You're going to have a beautiful baby; a boy or a girl or maybe even two-"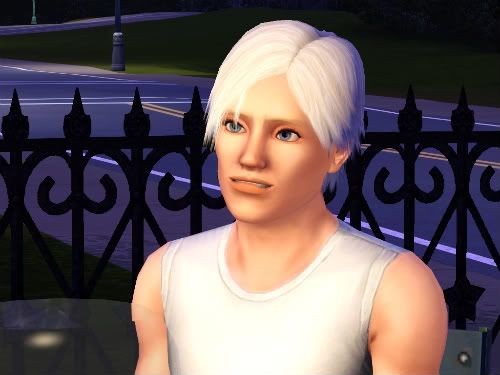 I cut him off, shocked. "With Justin's child," I said, keeping my voice steady. "Who may look just like him. Or he or she might have my hair and my powers and Justin's awfulness. Are you ready for that?"
Goodwin looked at me, then he stood up.
"What are you doing?" I asked. 'Are you leaving me?' I added silently.
That's when he went down on one knee, right there at the restaurant. I got out of my seat in shock.
"I don't care," he said quietly, so none of the curious audience could hear. "I wouldn't care if you were giving birth to a purple alien baby. Why should this change anything! I already knew what happened with Justin, and I have been prepared for a while now to raise children with you. This child will be one of ours, and he or she will never know a father other than me. Blue, will you marry me and make me the happiest father-to-be in the world?"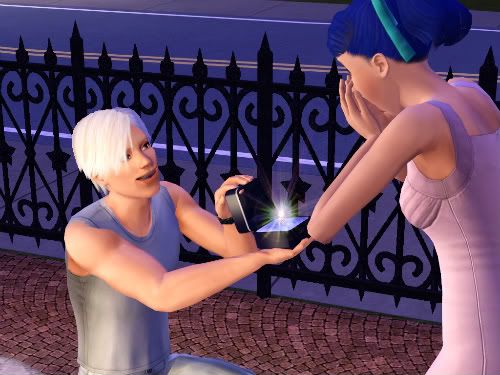 I stared at him for a second, unable to believe it, and then I responded so enthusiastically that the words stumbled excitedly over each other as they left my mouth. "Yes, oh, yes, please!!"
Everyone at the restaurant applauded as he placed the ring on my finger. He hugged me and our bodies reverberated with joy.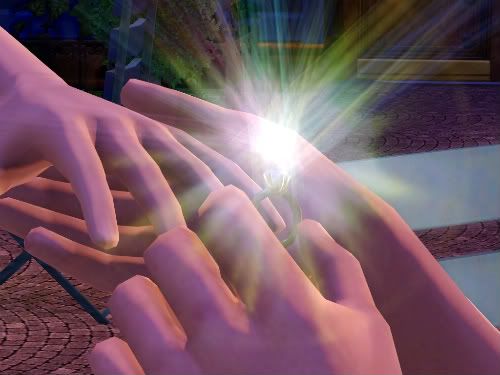 The days went by quickly after that. Goodwin worked hard, claiming he needed to bring in more money for our child. I was thankful that he seemed to spend more time maintaining the fire truck than he did actually putting out fires. Twinbrook was a safe neighborhood and didn't have many emergencies.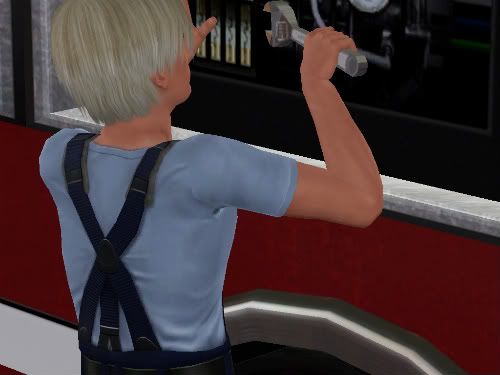 My boss had forbidden me to go back to work till the child was born, so I spent my days searching for a house. My belly was bigger every day. At fist it was unnerving, but then I grew excited. I had always wanted my own family. I missed Petunia more than ever, and I hoped that somehow my child would be able to meet her.
It was a shock when I finally discovered the perfect house. It was an elegant home, with a unique combination of colors. It was at the top of our price range and hardly furnished, but it felt right to me.
The next day, I brought Goodwin to see it. I stood behind him, hoping he loved it as much as I did.
"This is it," he said.
We purchased it then and there, both of use grinning excitedly. We explored, noting where we needed to redecorate, where we needed more furniture. We knew we didn't have enough money to finish every room, but we were too happy to care. I even saw an area in the back that would be perfect for a garden someday. It really was the house I'd always wanted.
We spent the rest of the day shopping, still caught up in our excitement. Then we walked around the neighborhood. I was so lost in Goodwin that I forgot the hour. I was completely absorbed in him when we found a marsh-type area. I found the reeds lovely, and told Goodwin to stop for a second.
We were both silent for a few minutes. Then he turned to me, smiling. "You're going to give birth soon," he said. "Let's marry now, before he or she is born, so that there will never be a point when I am not his or her father."
I smiled and nodded. I was ready to promise myself to Goodwin forever. We exchanged the rings we had bought ceremoniously, even though no one else was there.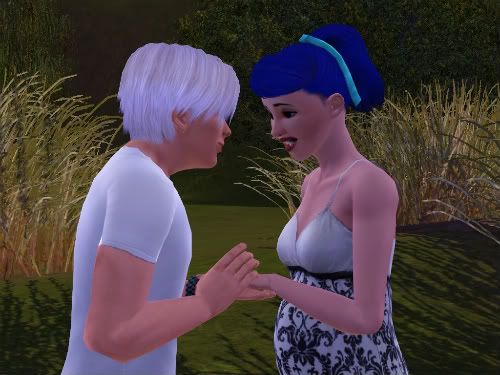 We kissed for the first time as husband and wife, and I could swear that everything disappeared except for us.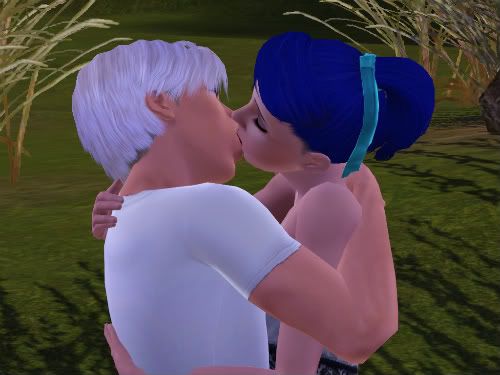 "Let's take your last name," Goodwin whispered, still holding me. "I want all of our descendants to know that they are as free as birds. You made your own happiness, and they will too."
It did seem fitting that we kept the name that was not given to either of us, but rather chosen, so I agreed to Goodwin's request. I smiled at the thought that my future was opening in front of me like the wings of a bird. Goodwin and I were flying toward a complete life together, days that had not yet been decided but were sure to be full of happiness. I pulled Goodwin to me, both of us laughing even as we hugged and kissed, sharing dreams and promises without words.
I'm sorry this chapter took so long to get out! I promise it would have been sooner but my computer crashed on me :(

I hope you guys are all happy that Blue finally has the life she's always wanted! :)

As always, all comments and criticism are greatly appreciated!