Blue, Twinbrook
I fell asleep that night next to Goodwin,
my husband
, completely content. Okay, so maybe we didn't fall asleep right away... all I'll say is that I had a very good night.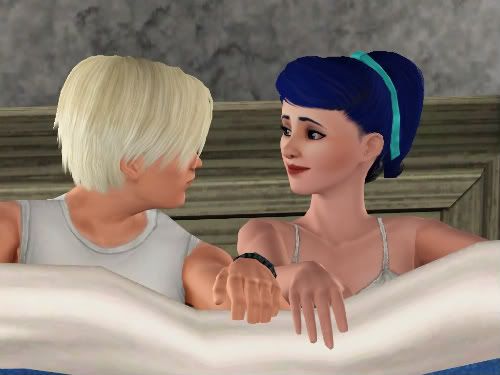 I woke up that morning, still unable to believe my luck. I was also ravenous.
I waddled out of bed, making sure not to wake up Goodwin (which is easier said than done when your stomach is the size of a beach ball), and quickly put on my pink dress. It really was amazing how it hid my stomach. I wondered if the dress was somehow magical- but as far as I knew, my magic only worked on people, not
things
. Was there someone else magical in Twinbrook whose specialty was things?
An interesting thought to consider. Maybe after breakfast.
I rushed to the kitchen and pulled out the first box of cereal that came in contact with my hand. Just as I started to eat the cereal, I felt my water break. Then the contractions came. My first thought was to mourn the loss of breakfast, but then the pain became much more urgent than the hunger.
It hurt!
You knew it would
, the Guardian said oh-so helpfully,
You are a doctor. What did you think, that it would be a walk in the park?
"SHUT UP!" I screeched. I didn't want to listen to a Guardian who had never given birth and therefore could not even remotely sympathize with my pain. In fact, Justin was lucky he was far away, because I was ready to attack him for putting me through this.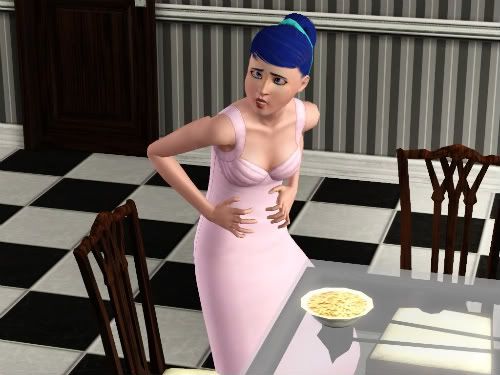 "What's going on?" Goodwin said sleepily, walking into the kitchen. I briefly felt remorse for waking him up, until I remembered that he was a man and would never give birth.
"What do you THINK is happening?!" I screeched in between contractions.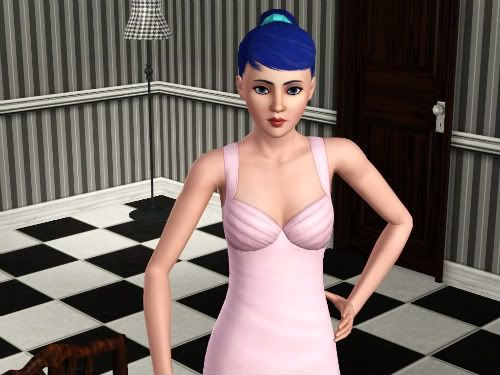 I'd heard that most men panicked when women gave birth, but Goodwin was surprisingly calm.
"We need to get you to the hospital," he said, both serious and determined. "Come on, I'll help."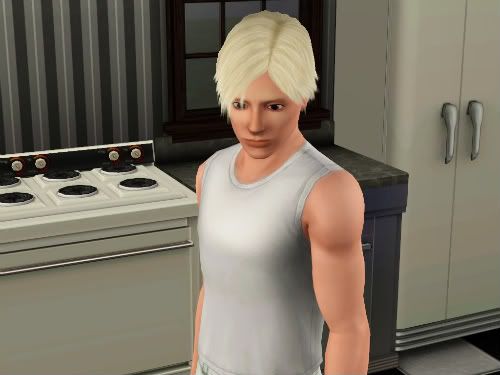 Goodwin held onto me as we walked out the door and got into the cab he had quickly called. He sat next to me, holding my hand and whispering in my ear. I was a nervous wreck between the pain and the fears. What if I wasn't ready to be a mother? What if he or she hated me?
Goodwin must've guessed what I was thinking, because he whispered gently, "You'll be the best mother in the world, you just wait."
"I don't know," I said back, but I could tell that I was smiling a little. How could Goodwin make me so sure of myself?
We ran in, causing some other locals to freak out. After a few hard hours in the hospital, I emerged with what surely must be the most beautiful baby girl to ever be born. When I first set eyes on Raven, all of my doubts seemed silly. I would care for and love this child as long as I lived. I would try my best to be a good mother because that's what Raven deserved.
I felt bad when Goodwin and I entered the nursery. "We haven't finished decorating yet," I said quietly.
"You were a little early," Goodwin replied. "Don't worry, I don't think Raven knows the difference yet. But you know what, I'll go buy some paint right now. Will you be okay without me for an hour?"
I nodded my assent and placed Raven in the crib (thank goodness we'd bought one already).
After Goodwin left, I stared at her for over a minute, watching her small chest rise and fall with each breath she took. I couldn't believe this sweet child was half Justin.
"No," I said to myself. "Goodwin is her father."
And I knew that it was true. Just as I would never be like my mother, I would make sure that Raven did not turn out like Justin.
The next few days were exhausting but happy. Raven woke up at odd hours and had a shrill cry that rang out throughout the entire house. Goodwin and I took turns feeding her and changing her dirty diapers. We were constantly tired, but it was a pleasant kind of tired. Goodwin and I became closer than ever, tied together in the bond of caring for Raven.
In the hours when Raven slept, we talked and laughed and kissed and made love until we were dumb with joy. One night we sat outside in our underwear until 3 am, just enjoying each other's company. Our married life, in my opinion, was absolutely perfect.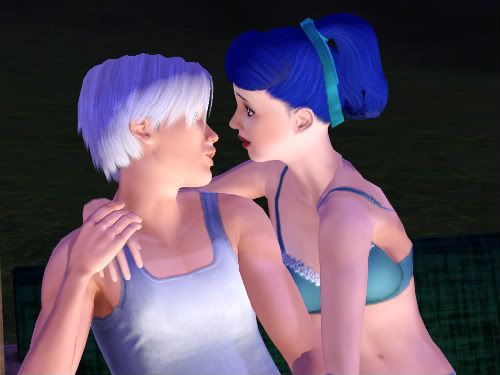 Eventually, Goodwin had to return to work, but not before he found the number of a local teen babysitter and insisted that I call it if I needed any help at all during work hours. He even promised he would come home from work at the first call. I wasn't planning on calling him or the babysitter though. Raven was mine, and I knew I could take care of her myself.
I had called my boss, but she insisted I stay home for as long as I wanted. She claimed she was sending reduced paychecks over until I came back. I was amazed by her kindness, and promised to stop in a few times to see the patients anyway. I missed working, but someone had to stay home with Raven.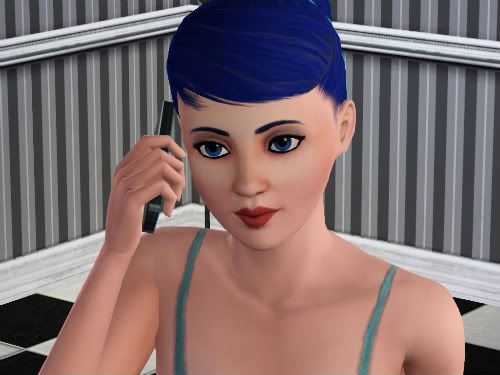 I also missed Goodwin. He was great about watching Raven when he got home to give me a bit of a break, but even then we got to spend so little time together. One of us was always with the baby or sleeping or practicing something for work.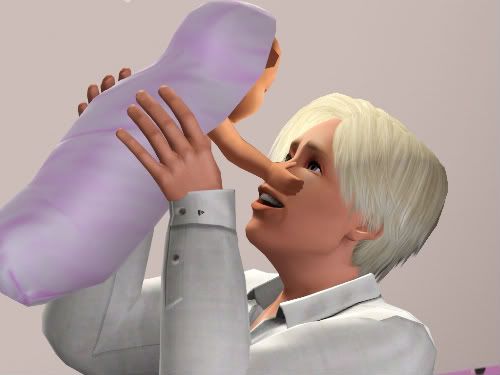 When I began throwing up again, I was almost entirely sure that I was pregnant. It was too similar to last time. I did take the pregnancy test, and sure enough, Goodwin and I would be having another child.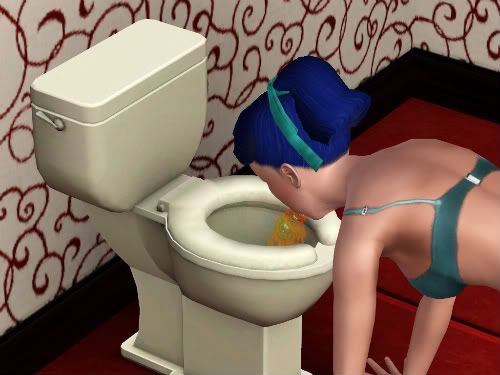 After I took the test, I stood in the bathroom, entirely conflicted. A large part of me was excited and happy, but my more practical side wondered how I would care for two babies with Goodwin at work. When would I return to the hospital? How many people had died that I might have been able to save?
You cannot think that way
, the Guardian said.
You must live your own life. Your dreams and desires come first
.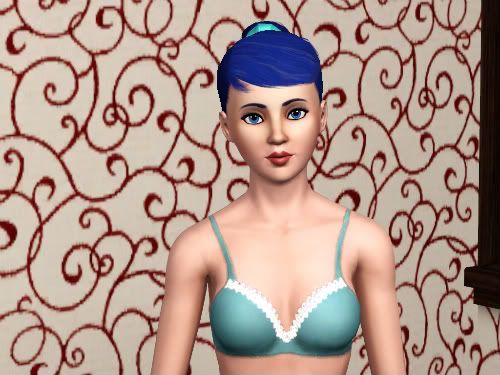 The Guardian was right, of course. I smiled. Another baby! Goodwin would be so excited! I quickly dressed in a maternity gown and ran out of the room to tell him, already anticipating his smile.
When I found Goodwin in the kitchen, I ran up to him excitedly. "Goodwin," I cried, gesturing excitedly. "I'm pregnant!"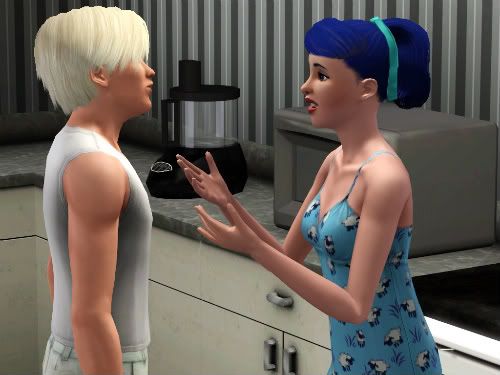 I don't know what it was, but something about the new baby sent Goodwin into a frenzy. It was like when I was pregnant with Raven, except even more intense. Oh, he was happy. In fact, he was so happy that when I told him I thought he was going to sob with joy. He pulled me into his arms and didn't let go of me for the longest time.
But already his eyes were gleaming with an emotion other than love. Something closer to determination.
We broke apart and then he hugged me again, as though he couldn't bear to be physically separate from his unborn child- and me, of course.
"I'll take care of you forever," he whispered into my ear. "No matter what I have to do."
I was so sure after he said that that all of my fears had been for nothing. Yet only the next day we fought for the first time ever when he discovered we didn't have enough money to buy another crib.
"How could we have been so stupid?" He cried. "What were we thinking when we bought those curtains? We should have saved that money!"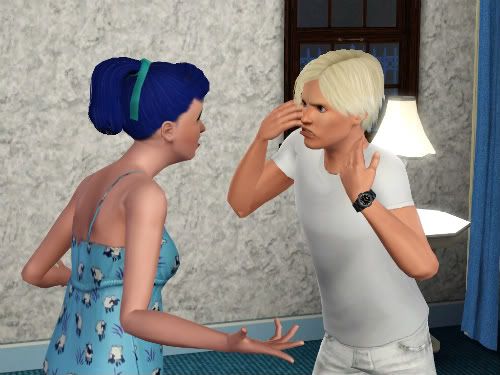 "We didn't know," I said, trying to calm him down. "We'll have enough money after you get your weekly paycheck tomorrow."
"That's not the point, Blue," He said, his voice exasperated. "We need to be more careful, we can't buy whatever we feel like just because we have the money!"
I tried to reason with him, but he insisted on rushing out to search for some gold or valuable rocks to sell. So began his obsession with making more money in whatever way possible. He worked the night shift at the station sometimes because he got paid more for it. A friend told us that the Scientific Research Center was paying good money for insect donations, and after that Goodwin would capture and sell all the insects he could find.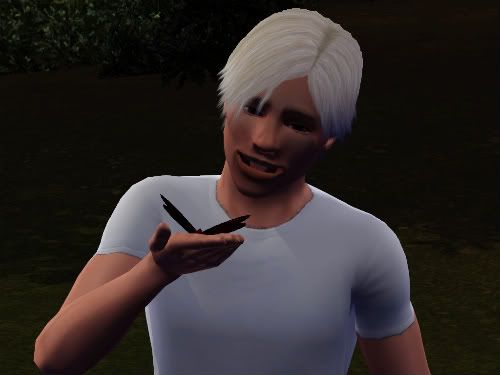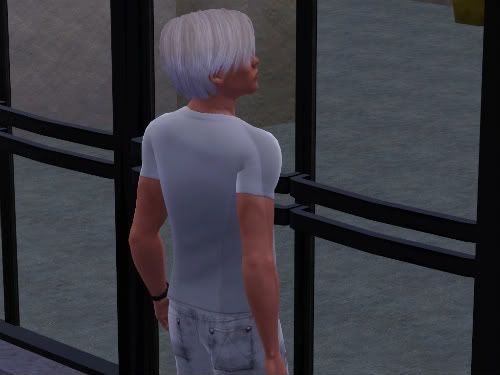 In the rare times when Goodwin was actually home, he spent time with Raven. She was getting older, and I could hear her giggling and gurgling in her particular way whenever they were together. Somehow, I just couldn't join them. It felt too much like an intrusion on the private father-daughter time.
Sometimes he took the time to unclog the toilet or repair a broken object. Apparently he had been practicing his handiness a lot lately, and was getting really good at it.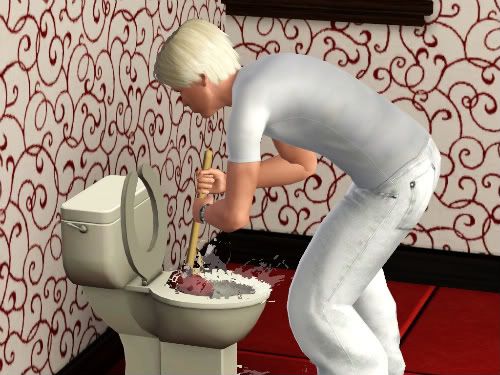 Between everything, I was pretty miserable and lonely. My face seemed to be stuck on some kind of painful grimace that just wouldn't go away.
I tried to talk to Goodwin about it a few times, but he always got the wrong idea.
"I miss you," I told him with a forced smile plastered on my face. It was one of the rare days when we were eating dinner together. "I feel like we never see each other anymore, and I'm getting a little tired of sitting at home by myself."
I'm lonely
.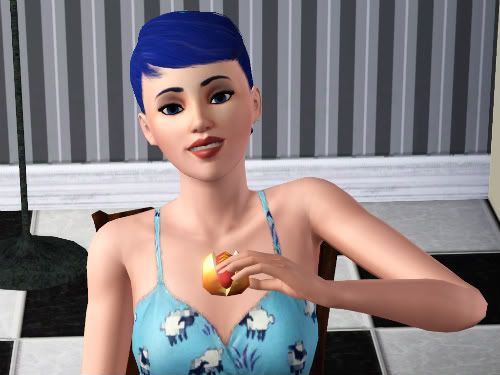 "You know how much I want to be here all the time," he said, and I could tell he meant it. I didn't like the knowing tone to his voice though. "But we need money. The kids need food,
we
need food! I'll take off time when the new baby is born, but for now why don't you hire a babysitter?"
I didn't want a babysitter though. I wanted Goodwin to make just a little time for me. As much as I knew he was only trying to care for Raven and I, and even the unborn baby, it didn't make me feel any less alone.
After Goodwin left and I had done the dishes, I stood there silently. My head hurt so badly. I held my hands to the sides of my head and grimaced. I had the feeling that something had gone wrong, but I had no clue how to fix it.
When I was sad, I held Raven against me and listened to the comforting sound of her heartbeat. I looked down at her and saw pure love in her eyes. I knew she loved me unconditionally, and that was enough to ease my heart for a while.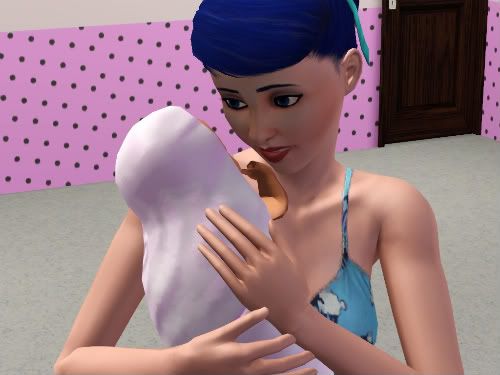 The Guardian was also a comfort, talking to me at all hours of the day about mundane things. Making me laugh and smile just a little. Of course, it was always at the back of my mind that the Guardian would not be mine forever. Raven or maybe a yet unborn sibling would claim the Guardian and then I would be left to my own thoughts.
The days went by in a blur of Raven and chess practice and missing Goodwin. My stomach began to grow, so quickly that it felt as though I was heavier each day. Despite everything, I was excited to meet my second child.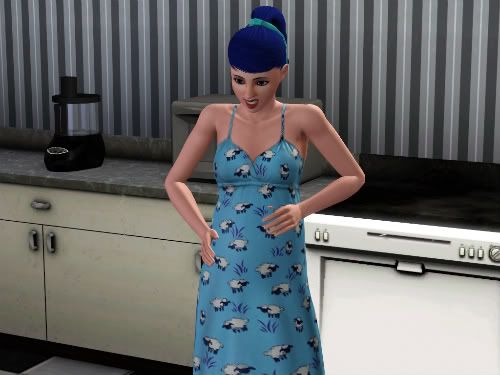 Raven was getting bigger and bigger too. I realized that she would be a toddler soon. I dreaded it more than anything. Babies were bald, but toddlers... well, they had hair. Usually the same color as one of their parents. Every time I held her, I wondered.
After that, even Raven was hardly a comfort to me. I was as big as a whale, my husband was almost never home, and my lovely daughter could very well have inherited my blue hair and with it a power that it could be so tempting to turn towards destruction.
I couldn't summon much enthusiasm when Goodwin came home and announced he'd won the coveted "Firefighter of the Year" Award. He hung up the prize axe on our wall, and all I saw was a sign of how little I saw him.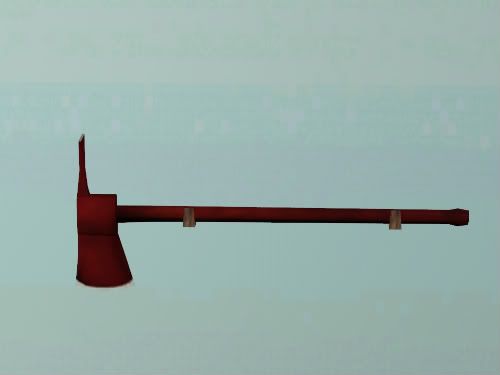 I started to think of the day I gave birth as some kind of magical day. Goodwin said he would take time off of work when the baby was born. We would be together again, and surely he would forget about money then.
It was a shock when about a week before my due date Goodwin called from work to announce that he would be taking more hours at the station for the next few weeks.
"But I thought- weren't you going to take time off?" I asked quietly into the phone, my face devastated.
"I know I said that Blue, but we need this money so badly. Just a few more weeks, then we'll be fine. Please, trust me."
I could hear the strain in his voice. All of his extra hours were taking a toll on him too. I didn't want to stress him out more, so I agreed, trying to keep my voice happy. After we hung up I ran to the chess board and sat there practicing until I heard Raven crying from the other room.
The next few days passed similarly. I was beginning to think that by the time I went back to work I would amaze everyone with my new-found logic skills. The thought didn't give me that much comfort.
I was resting one day when the contractions came on, so suddenly I woke up gasping. Sleepily, I registered a few key points. I needed to get to the hospital. Goodwin was at work. Raven was here, and I couldn't leave her alone. I tried to walk to the door, but the pain was too strong. I wouldn't be able to go anywhere without someone supporting me.
Another wave of pain hit, and I didn't know what to do. I didn't think I had ever felt so helpless in my life. The Guardian was saying something, but my mind was so panicked I couldn't hear. Unconsciously, I dialed the number I knew so well, hoping against hope that he wasn't too busy to answer.
Goodwin, Twinbrook
It had been a busy day at work. The kind of day that made me want to go home and sleep until I felt human again.
Actually, not much different than most of my recent work days.
I had put out a relatively large fire that morning. Only one woman was home, and luckily I carried her outside before she got hurt, but the whole experience was pretty draining. The house had sustained a lot of damage and I hated to see the woman crying at the charred remains of her plants and paintings. Just when I got back to the station, I'd had to run over to the school, only to discover that some high school kid had pulled an alarm.
After that, I had fixed the station computer. My boss was relying on me more and more for repairing broken objects and maintaining and upgrading the alarms and fire trucks, a fact which I was proud of. It was tedious work sometimes though, especially when my mind was miles away.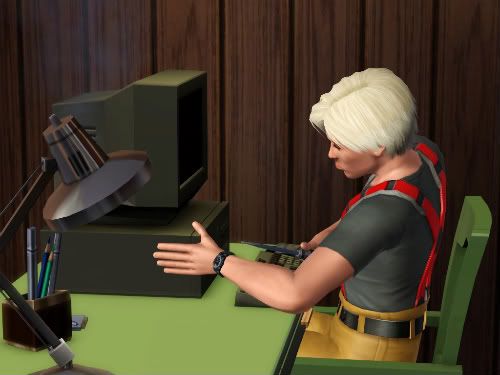 No, I could care less about that old, cruddy computer. All I could think about was Blue. Home, all by herself. She hadn't been sounding so happy lately, I could tell, and it nearly broke my heart. Why wouldn't she hire a babysitter, or invite over a friend? She needed someone to talk to while I was so busy.
As I ate a hasty bowl of cereal, I considered taking time off of work for the millionth time. It was so tempting. But I had to make sure we didn't go broke while Blue was off of work.
I was completely shocked when my boss came over and promoted me to a Fire Captain. He said I was going to be given even more responsibilities around the station and that it would be my job to coordinate the my coworkers during emergencies. I was unexpectedly sad- I had the sneaking suspicion that this would mean yet more overtime hours at the station, more nights away from Blue.
My boss handed me my new uniform and told me to change immediately. I pretended to be grateful.
It's more money
, I reminded myself.
I was about to check and make sure the alarms were working right when my cell phone started to ring. I wasn't surprised to see it was Blue calling, and when I saw her name on the Caller I.D. I smiled immediately. It always brightened my day just to hear her voice.
"Blue," I said. "What's going on?"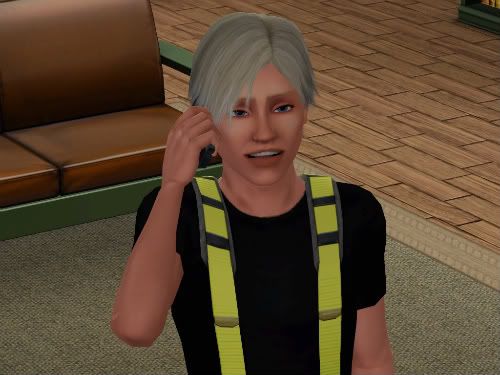 "Goodwin!" she cried, and I knew something was wrong. Her voice was desperate and she sounded as though she'd been crying.
"Blue!" I yelled, running to my car. "Are you okay?!"
"The baby's coming! Right now! I can't walk, I can't get to the car, and I don't know what to do!"
"I'm coming," I said, determined. "You'll be fine, I promise!"
As I drove I grew nauseous with fear. All I could think was that I should have been there for the whole pregnancy. How could I have left her alone? If Blue was hurt now, it would be my fault. I vowed that if Blue gave birth to our child safely, if both of them were okay, I would put work as my absolute last priority.
I hope you enjoyed this update (even though it's not exactly the happiest)! Remember that comments and feedback are greatly appreciated! And get excited for the next chapter, because you'll be learning a whole lot more about magic and Twinbrook itself :)