Blue, Twinbrook
I didn't tell Goodwin about the seer's predictions. Yeah, I felt guilty, but if I told him I would have to talk about it, and that was the last thing I wanted to do.
Instead, I shared much happier news with him.
I walked into the nursery to find Goodwin holding Jay. Raven was playing happily on the floor with her shape set.
"Goodwin," I exclaimed. "I just found out today- I'm pregnant!"
It was easy to get lost in Goodwin's joy. He placed Jay in the crib gently then pulled me into a gigantic hug, and Raven giggled on the floor, and it was impossible to imagine that anything could ruin our happiness.
It wasn't long before I was showing. Sometimes I would roll out of bed at night and hold my stomach, feeling that for the first time there was nothing interfering with the birth of my child. No tint of of Justin. No loneliness or fears about money.
Every day Goodwin would insist on listening to my stomach. I told him that I hadn't felt the baby move yet, but he wouldn't stop, saying that our child would respond to him eventually.
It was almost comical when our baby finally obliged him. Goodwin's eyes grew wide and I could tell he was suppressing a shriek of surprise.
"He moved, Blue," Goodwin whispered, his voice full of awe. "He moved!"
"How do you know he's a boy?" I laughed. I didn't know how Goodwin could be so sure when we hadn't taken a test to find out.
"A father's intuition," he said, still at the level of my stomach. "We'll have to try again so we can have another girl too."
I smiled. I had always wanted a large family. Before I worried about hair colors and magic, that is.
Goodwin must have seen my face darkening because he stood up and looked me in the eyes. "I'm not pushing you into anything, Blue. And no matter what our child is, boy or girl, I will be happier than I could say."
I heard his unspoken promise. He didn't care what hair color any of our children had. I wished I could be as optimistic.
I forced a smile, but the longer I looked at Goodwin the more genuine it became. Then he brought his mouth to mine and there was nothing to think about anymore.
I never forgot that Jay's birthday was approaching. Every day I imagined him as a toddler with lovely white blond hair, just exactly Goodwin's shade, until I had convinced myself that was the only possible option.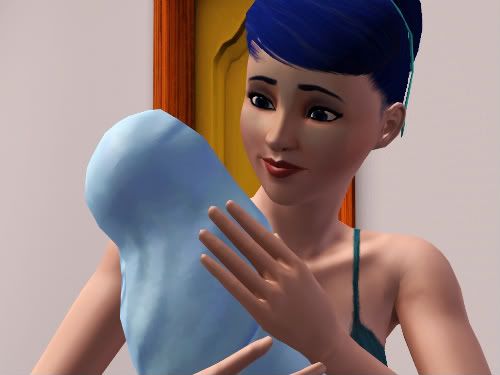 The night before Jay's birthday, Goodwin put him to bed. I heard him whisper, "I hope you look like your mother. I hope you have her eyes, and her smile, maybe even her-"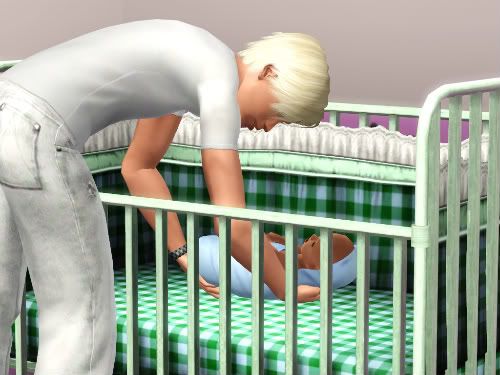 He turned to look at me, and I stared in the opposite direction, as if I hadn't heard anything. I didn't understand why he would ever want our child to be so cursed.
That night I dreamed of my blond son again. I couldn't wait till tomorrow was over.
Goodwin, Twinbrook
Nothing could keep me away from my son's birthday, not even Blue's most irrational fears. She begged me to stay away, but I told her that I was never going to let birthdays in our home become a sad event. It had been my mistake to miss Raven's day, and that was not going to happen again.
In fact, Blue had to yell at me once (or twice, or a million times) to tone it down a little.
"Goodwin," she said incredulously. "Did you seriously buy a noise-maker for Jay's birthday? He doesn't even know what's going on!"
"Yeah," I said. "So what?"
I continued cheering and smiling, and Blue continued rolling her eyes. If Blue was going to be so sad, someone had to bring the energy. I knew I looked foolish, but in an instant I was ready to jump to Blue's side and make sure she was okay.
Besides, I was amusing Raven. She sat on the floor chattering happily, waiting for the moment when she would have a new playmate in the house.
Blue stood in front of the cake with Jay. Her eyes were so wide and scared that I wanted to comfort her. Didn't she understand that hair color, even a magical hair color, meant nothing? We would raise our kids well, she would teach them the dangers of magic. Besides, her power was a beautiful thing- it helped her heal, and put those beyond healing at rest. I just couldn't see what Blue was so afraid of.
Blue placed Jay on the ground with shaking arms, and soon he began to age. I watched Jay, keeping half an eye on Blue's face.
And then Jay was a toddler. A lovely, adorable, blue-haired toddler.
In spite of myself, I smiled. Then I saw Blue, and my smile disappeared instantly. She was entirely still, staring at Jay, eyes frozen in a horror I knew I would never understand. She began to totter a little in place.
"Blue!" I cried, running towards her.
Blue, Twinbrook
It had happened, my worst fear. I never should have had children. I should have been careful with Goodwin, should have told him we could never have kids. And now I was pregnant with another child, who could also have my hair. What had I done?
I remembered the seer's warning. One of my children could turn to my mother's side. What if it was Jay, gurgling on the floor with his cursed hair? How many people could he kill, with the power of destruction and my mother's help?
I staggered under the weight of my guilt. I saw Goodwin's lips moving, saw him running towards me. Everything was blurry, like a bad-quality picture, and then the world faded to black.
I am so, so sorry it took me this long to update! I'm much less busy now though, so expect much more regular updates.

As usual, comments and criticism is encouraged :)